Embodying the Zen of Hara Within the Field called MA
Upcoming workshop

with

Hiroyoshi Tahata of Japan. Rolf-Movement Instructor.

Santa Cruz, CA.
Date: mid-September, 2020.
Hara is located three finger widths below the naval. In Zen meditation your attention is oftentimes placed on the Hara. From acupuncture it is said that Hara is the "source of life". MA refers to the Japanese sense of space, interval or pause between objects. In the west we may refer to this as the field. Integrating these two aspects into your somatic practice deepens not only the connection to oneself but to the surrounding field.

Hiroyoshi Tahata is a certified advanced Rolfer and Rolf Movement Instructor, living in Tokyo. He has worked as a research biochemist at the Hayashibara Biochemical Laboratories for 9 years before studying the work of Rolfing.
Hiro is renowned for developing, teaching and practicing this subtly powerful work that integrates the deepest levels of self and its relationship to the universe. In this workshop we will embody the sensation and informational quality of Hara while integrating the relevance of our positioning in the transformational field of MA.
This workshop is open to all somatic practitioners and can be immediately applied to your life and practice.

For more information / registration
Japanese Rolfing Association sponsored Rolf Movement workshop in Tokyo, Japan
Spine in motion
Spine in motion through support and relationship with joints
Date: Aug.20-23, 2019
Location : Tokyo, Japan
CE Credits : 4 Day Rolf Movement credits
Tuition : YEN 80000

The students will explore functional movement in spine. To enhance the function of axial complex, it would be important to strenghten support system with membranous tissues of spinal column, motility of retroperitoneal organs and embryological primitive movements.
It would be meaningful to explore the relationship of spine with the other structural component or perception.

Registration
Collaboration of European Rolf Movement instructor, Nicola Carofiglio and Hiroyoshi Tahata
Embody Orient/ Occident
Date: Sep.1-3, 2019
Location : Tokyo, Japan
Ultimately Rolfing is for the Rolfer
Date: Sep. 5-7, 2019
Location : Tokyo, Japan
For more information and registration
Download Flyer PDF.
The way for translation of 10 recipe of S.I. into the movement with the Art of Yield with Ma
The Art of Yield evokes structural change and integration in a new way by using the client's system to make the decisions about where to go through the Oriental concept of MA (Space/timing) and HARA . The results shown bellow can be achieved through gentle and brief, but precisely timed touch without using classical myofascial release technique we typically use in Rolfing® S.I.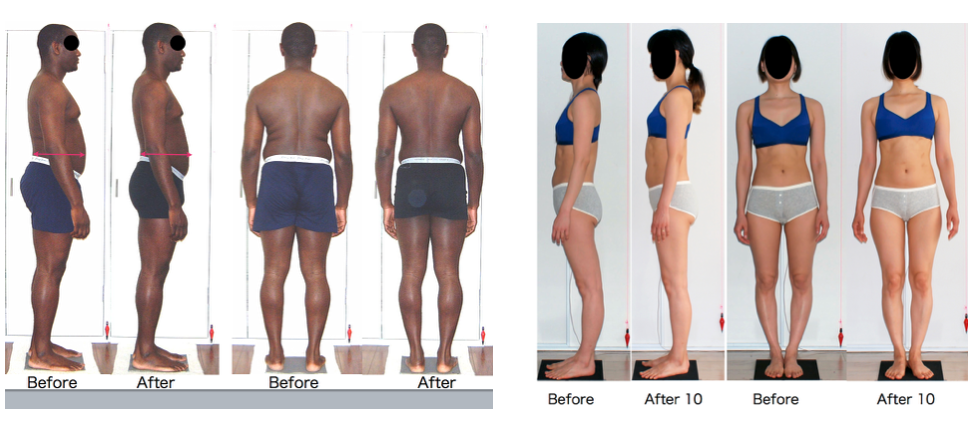 I saw many Structural Integrators hurting themselves by using too much pressure in their practices. We are body/wellness professionals teaching others how to live and move with more ease. There should be a consistency between what the practitioner is doing and what the practitioner is teaching the client. I as a Rolfer have been developing a way to work with more ease. It allows the practitioner to discern and follow a more extensive range of change.

On the Part 1, the fundamental concept of Yield will be introduced. This class will cover the first hour to the 3rd hr of the 10 series. Part 2 is about the CORE sessions, 4th hr through the 7th hr. Followed by these parts, the final Part 3 class will focus "integration " .with various useful position strategy.

All parts must be taken in sequential order as each part is the prerequisite to the next.

Instructor: Hiroyoshi Tahata
Credits : 4 credits toward Rolf Movement® certification for Rolfers and IASI members
Tuition : YEN 80000 for each Part
Location : Tokyo, Japan
Registration : Application form


Hiroyoshi Tahata is a certified advanced Rolfer™ and Rolf Movement® Instructor. In 1999, Hiro began exploring the movement of Yield and has cultivated and deepened his understanding of this primal action over the past 17 years. The approach he has developed is transformative and broadens a practitioner's field of perception and informed touch.

休息と安全安心の基盤
YE credits : 3 days x 3 Parts = 9 credits
1日イールド紹介ワークショップ後に、計9日間のクラスを修了することで、3シリーズYielding Embodiment®を提供できるように組まれたコースです。
3日間のクラスを3回に分けて、内容を消化しながら進みます。この3回シリーズには、イールドの技法の本質が含まれています。
9単位取得によって、Yielding embodiment® 3シリーズの提供が可能になります。
空間的広がり、肚・重心
YE credits : 17単位 (内容が重複しないクラスへの参加)
前の3回のシリーズによって、空間との相互作用が向上した身体の内側と連携を高め、身体内空間を広げるためのコースです。
3日ないし4日間のワークショップを選択的に受講し、全8シリーズを提供できるように組まれたコースです。シリーズの総論に当たる4日間のクラスのみ必須となります。
クラスの種類:Core, Spine, Perception, Breathing, Support, Integration
Yielding embodiment® 8シリーズの提供が可能になります。
これまでのStageへの再参加や、統合、知覚を扱うクラスへの参加を通して、シリーズでまとめるスキルを向上させます。